Universal Pediatrics specializes in the provision of in-home, high-tech medical services with an emphasis in pediatrics. Serving children and young adults since 1985, Universal Pediatrics offers long-term, extended hourly care from private, in-home nurses. Our Corporate office is located in Urbandale, IA, however, we have an office housed in each region of the state of Iowa, covering all 99 counties. In addition, our Sioux Falls office provides services to the entire state of South Dakota.
No client is ever discriminated against based on an individual's race, color, creed, religion, sex, disability, age, sexual orientation, gender identity, pregnancy, genetic information, military status, national origin, or otherwise defined by state and federal law.
A History of Health Care
For over 30 years, Universal Pediatrics has been providing high quality home health care for children and young adults. Universal Pediatrics was founded by Connie Freeman, a registered nurse working in home care, who not only noticed the lack of care providers for high-tech children in rural area, but felt inspired to find a way to meet that need. In 1985, Connie opened her own agency with a primary focus on providing care to these children regardless of their location. Her passion quickly grew Universal Pediatrics into an operation with offices in over 15 states and earned Connie the 1992 Ernest and Young Entrepreneur of the Year award. 
Universal's very first case involved a child with bronchopulmonary dysplasia in Burlington, Iowa. Until this time, a ventilator-dependent child had never been discharged to home care in a rural location, anywhere. The child had been hospitalized for 2 years, with little to no hope of release. Universal Pediatrics stepped up to the challenge, developing a care plan that provided the security and assurance that both physicians and the family required prior to  discharging. This was the first of many patients Universal welcomed home to a loving  environment, and is an excellent example of Universal's philosophy in action: We are  committed to providing the highest quality home health care.
Your child. Your home. Our passion.
In 1995, Connie started another home care company, Ultimate Nursing Services, that  provided the same quality of home care but was devoted exclusively to the state of  Iowa. These companies earned the #1 and #2 spots in the Des Moines Business  Record's "Top Home Care Providers" for the past 13 years. Although Connie retired in  2009, her son, Tucker Anderson, carried on her legacy as the companies continued to  gain national attention, with one of the two companies being featured in Inc. Magazine's  "Fastest Growing Companies" for 7 consecutive years.
Throughout the years, the pediatrics population has always been our primary focus, so in May, 2014, Tucker, decided it was time to use one name for both companies and adopted "Universal Pediatrics". By unifying the names with a clear commitment to "pediatrics", we are building on the promise that begins with our motto: "Your child. Your home. Our passion." In 2016, founder Connie Freeman, passed away of complications from cancer. Her legacy of providing passionate care to children in their home will remain forever. 
Our Philosophy of Care
At Universal Pediatrics, our goal is to provide individuals with life-changing disabilities a chance to live an enhanced quality of life within the friendly surroundings of home. This freedom, however, is a challenge for clients who face serious medical conditions and technological needs, including feeding tubes, ventilators and other specialized equipment. Universal Pediatrics was founded on the belief that these individuals deserve a chance to enjoy a life at home with their families.
Our clients enjoy a certain dignity and freedom that can only be realized when they escape the limitations and restrictions associated with institutional care. All infants, children, young and mature adults with special needs should be given the opportunity of an alternative way of life that will allow them the comfort, security, freedom and love available in their home setting.
Universal Pediatrics - Through the Years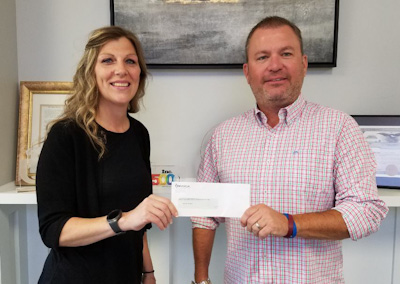 2018 - Tucker, CEO, awarded Universal Pediatrics first tuition reimbursement check to a field staff nurse, Savina.
Savina was in the process of earning her Bachelor of Science in Nursing degree.
---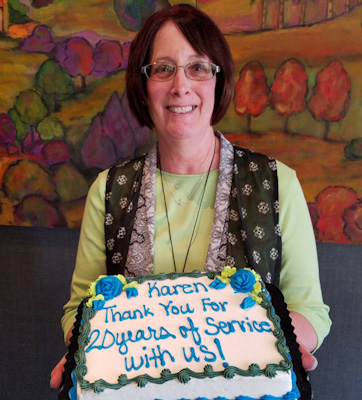 2018 - Universal Pediatrics helped Karen, a field staff nurse in our Newton office, celebrate her 20 years of service with the company. 
---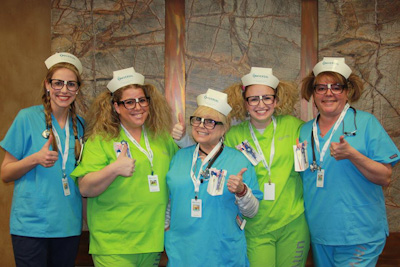 2015 - The West Des Moines "Nerdy Nurses" attended Orchard Place's Spelling Bee. The event helped raise money for children with mental health and juvenile services.
---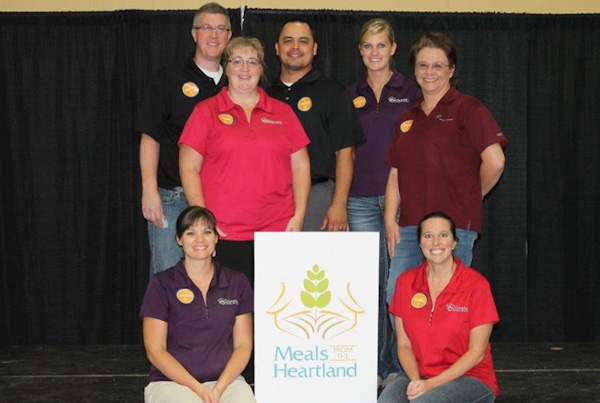 2013 - Universal Pediatrics Corporate office proudly volunteered and supported Meals from the Heartland Annual Hunger Fight event. Volunteers help pack meals each year for the non-profit organization.
---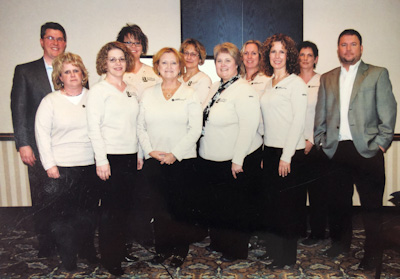 2008 - Connie Freeman, Tucker Anderson and administrative staff attend annual Administrator Meeting.
---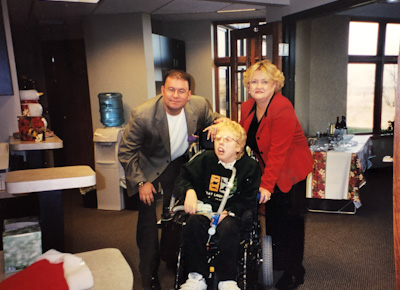 2007 - Connie Freeman and Tucker Anderson with a client from South Dakota.
---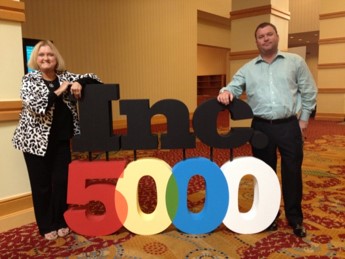 2006 - Connie Freeman and Tucker Anderson attended "Inc. 5000" conference. Universal Pediatrics and Ultimate Nursing Services were featured in the magazine's "Fastest Growing Companies" for seven consecutive years. 
---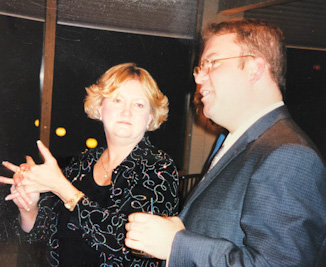 2002 - Connie & Tucker at the first company holiday party.
---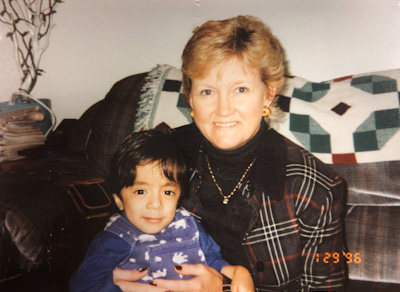 1996 - Owner, Connie Freeman, with client.
---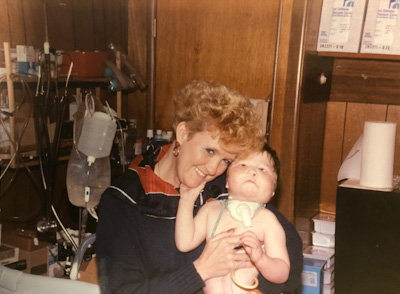 1988 - Connie Freeman with one of Universal Pediatrics first ventilator dependent clients.
---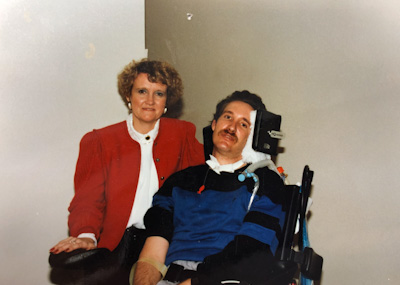 1987 - Connie Freeman and one of Universal Pediatrics first ventilator dependent adults.
---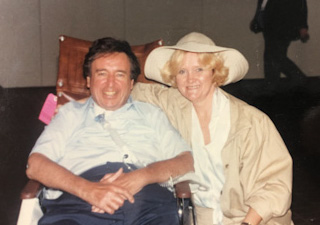 1985 - Owner, Connie, with an adult client. Also, one of her very best friends.